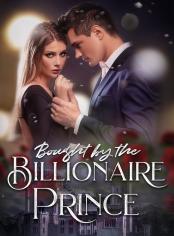 Bought by the Billionaire Prince
eGlobalCreative
166.9k Words / Completed
Start Reading
Add to Library
Introduction
A few things to consider before joining the
Royal
family
:
1. This will be a real
marriage
;
2. I will not force myself upon you;
3. You will never cheat on me, or you'll suffer;
4. I will never grant you a
divorce
.
Are you sure you're ready to be my
queen
?
She's a college
student
, trying to save her sister. He's the
Prince
of Estrea, trying to save his
family
. Together, they discover the true meaning of
love
and sacrifice....
College
student
Ari Douglas just learned that her sister, Henley, has leukemia. As the daughters of a
single mother
with no insurance, they don't have many options or
hope
. Then a friend tells Ari about American
Mate
, an elite modern matchma
king
service. With no other options and needing cash quickly, she applies to the service.
Former
playboy
Prince
Grayson Pierce of Estrea is tired of women wanting him for his money and title. Having just suffered a very public breakup, Grayson is through with
love
. At the urging of his best friend and wanting to settle down, Grayson decides to go through American
Mate
. But he has just one catch: He's in it for
life
. There has never been a divorice in the long line of succession of the
monarchy
... ever.
After just one meeting on the Internet and with no other options to
help
her sister, Ari agrees, But she has to be at the altar in Estrea in three days. Now, with a shadow cast over the realm and the tic
king
clock of her sister's illness, can two hearts sacrificing for the good of their families find
love
in each other? Or will their
marriage
be the ulti
mate
sacrifice? In this heart
war
ming tale of
love
and loss, two hearts discover the true meaning of
love
,
family
, and sacrifice in Bought by the
Billionaire
Prince
.
READ MORE
Comments
Switch Fix

#50%offread Was so excited to see this discounted! Fingers crossed for the next one. Excuse me while I binge read this!

08/31/2023 14:50

Read Feeder

#50%offread Started reading and immediately fell for the storyline. Looking forward to reading this

08/31/2023 14:21

SarahFow5889

#bingeread

07/29/2023 09:22

MaliceNWndrlnd14

I truly do love the story so far… but I HAVE to say this. For readers… The whole point of a story is to get lost in it… to feel like you're in it or watching it happen right in front of your eyes. It is REALLY hard to stay lost in a story and keep reading when the wrong characters names appear. It pulls readers out of the story, make us re-read the part we already read, and then question if we missed something. There have been a few times it's happened. in the beginning when Henley (should have been Ari) walks to the nurses station to get certified for virginity and just again in the part I read about talking about Grayson (which I assume should've been Piers or Sam) killing Ralph and Dime but it was Grayson who said it. I don't comment on these often… but so far, that is my only "complaint" because when I see a character name mishap like that, I get pulled out of the story. If we get pulled out of stories enough, it can be easy to leave them behind.

07/05/2023 13:04

Julie Mejia Zertuche

1z2x Just started this story and so far it's really good, I haven't been able to put it down. Worth the read!!

03/30/2023 02:24

Kat Waters

1z2x we will see what it is like it sounds like it will be a good book once I get more into it

03/29/2023 16:51

Michibeba

*1z2x* it sounds as a very good story from what I have read and can't wait to read more and enjoy it

03/29/2023 16:35

Ashley P

1z2x I love how Ari's character is willing to do anything for her family!! I'm 9 chapters in and while this is starting as a business arrangement to be sure, I'm excited to see how their relationship develops and the plot twists that are certain to occur along the way.

03/29/2023 16:35

Joey Jojo

1z2x I just love this story. ari and Grayson are just the sweetest together. u jus want to cheer them on as individuals and together.

03/29/2023 16:26

Gemma Butler

1z2x Such a sad sad start 😭 Good book introduction so I added to my library to read later

03/29/2023 16:25