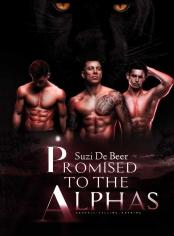 Promised to the Alphas
Suzi de beer
190.6k Words / Completed
Start Reading
Add to Library
Introduction
A REVERSE HAREM SHIFTER ROMANCE
"We can keep your island safe and capture the
killer
..."
"But? In return for what?"
"Your daughter."
I was wor
king
on getting off the island. I wanted to go where nobody knew me so I could live the
life
I always wanted, but unfortunately, my plans didn't work out that way.
I was at the wrong place at the wrong time and nearly died because of it. But my knight in shining armour rescued me.
One chance encounter changed everything.
There was a
murder
er lur
king
in the shadows, and the only ones who could stop him were the cat-
shifter
s.
But their
help
comes at a price - me.
READ MORE
Comments
Kim Cox Bassante

where can I read the rest of this book?????

09/26/2023 21:19

Bonnie M

I thought the book was completed where are the rest of the chapers

08/21/2023 14:05

Heather Martinez

I find it a little suspicious that she's somehow able to lean forward to look out her window but then when she picks up her purse she says"just bending forward makes me hiss in pain" so how was she able to lean forward without mentioning any pain...

08/19/2023 20:58

IceQueen

🔥🔥🔥🔥🔥🔥Absolutely one of .my rop fav chapters of this book.. 💦💦💦💦💦🔥🔥🔥🔥

08/18/2023 03:33

Marie

seriously yall play the damn song and read this chapter....🔥 🔥 🔥 🔥🔥🔥🔥🔥🔥🔥🔥🔥🔥

08/18/2023 00:54

Amal Samir

I loved it so much. When will you update more. I really need to finish the book. It is awosome

08/05/2023 09:19

Amy Adams

❤️

08/02/2023 13:21

Karen Stanton

what are the other books?

07/27/2023 03:59

Stephanie

Do you need to read the other books before this one to understand what's going on?

07/06/2023 16:59

Glenda Santee

do you remember when obsidian almost fell off the cliff.

06/26/2023 20:06