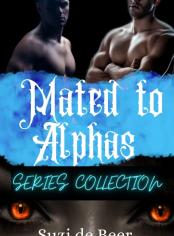 Mated to Alphas (Series Collection)
Suzi de beer
370.2k Words / Completed
Start Reading
Add to Library
Introduction
"We're sending you away for a while. "Devon said.
Pain
s
hot
through me. They didn't want me here anymore.
Was this his way of saying that he didn't want the
baby
? Was he too scared to say it to my face?
I tensed when David stepped up behind me and wrapped his arms around my waist.
"We don't want to, but we have no other choice right now," David said softly.
"I can stay with you," I whispered, but he was already sha
king
his head.
"You're
pregnant
Val. Someone could slip something into your food or drinks and we wouldn't be a
war
e of it. You should be as far away from here while we sort this out."
"So you're sending me away to go live with some strangers? What makes them trustworthy? Who—"
I'm a
human
born in a
Lycan
world.
My mother died during birth, and my father soon after in battle. The only other
family
I had was my aunt who had no choice but to take me in. In this world of
Lycan
, I am not welcome. My aunt tried to throw away the burden, me. Finally she found a
pack
that would take me in.
A
pack
ruled by two
Alpha
s—the biggest
pack
known to
Lycan
s. I expected them will reject me too, but things took an unexpected turn. Turned out they wanted me as their
mate
. But will I be able to handle two
Alpha
s?
PLEASE NOTE: This is a series collection by Suzi de Beer. This includes
Mate
d to
Alpha
s and
Mate
d to
Brothers
, and will include the rest of the series in the future. Seperate books from the series are available on the
author
page. :)
READ MORE
Comments
sheready

this looks so interesting. I'm going to love this.

07/13/2023 12:21

Amy Gusick

❤️

05/22/2023 21:54

samantha Crichton

a7s6 so far it's getting interesting, and am interested in continuing to read and see how the 3 main characters get together.

04/02/2023 07:12

Mirela

a7s6 I like this story, because the 2 strong alphas accepted her a wolfless girl as their mate.

04/01/2023 04:02

Reader-731248

a7s6 I think the plot seems quite interesting so far. it is put on my Reading list for later.

03/31/2023 21:40

Oni Blah

a7s6 This book is super interesting to me I really like the way it's written and the plot. can't wait to read more!

03/31/2023 18:25

Emily

0a1s it's a really nice book with some twists in the middle and secrets revealed. worth a shot !

03/31/2023 17:47

Gemma Butler

0a1s I absolutely love this author, I've read a few of her books and think she is fab. Can't wait to read this one

03/31/2023 17:18

Vicki usher

0a1s# seems like a interesting book.I like the idea of double mates can't wait to see where that goes.

03/31/2023 17:10

Lara Napier

0a1s absolutely love this book so far! it's different to other werewolf books and I look forward to finishing it

03/31/2023 07:41