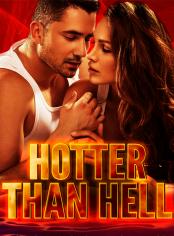 Hotter Than Hell
EGlobal Publishing
431.6k Words / Completed
Start Reading
Add to Library
Introduction
Enter the
hot
ter than hell world of
sex
, drugs, and danger. Notorious
crime
boss
Chase Xavier
Moon
takes few prisoners and lives a lavish
life
of sin limited only by his imagination.
When ex-cop Madison Kinlock enters
Moon
's world, nothing will ever be the same. They knock heads constantly but everyone knows the heat is turned on high and a melt-down to end all meltdowns is coming.
Hot
ter Than Hell is created by Holly S. Roberts, an EGlobal Creative Publishing signed
author
.
READ MORE
Comments
Iris Mol

I can only find her E-books only, is there no paperback?

08/17/2023 12:32

Jodie Tomlinson

Fantastic book!!!! One of the best books I have read in a long time. Please keep up your awesome writing & give us more!!!! Please, please, prettt please!!!! 🥰

08/10/2023 10:35

Debbie Kilpatrick

who is the author I want to read other stories if available.

07/25/2023 00:06

Jen Twentyman

Idiotic, driving a black car in phx during the summer! I have had that VERY same thought!

07/13/2023 05:36

Kuini Ihaka

#bookmegasale

06/23/2023 18:41

Carrie Brown

This has been one of the best books I've read so far. I'm so glad I took the chance. I almost didn't based on the title. lol

06/05/2023 16:42

Emily

Sephrik interesting start of the story very intriguing

05/23/2023 21:56

Shai Bell

sephrik very interesting read

05/23/2023 19:33

Kobie Stroebel

Sephrik good book

05/23/2023 19:13

Janaki Kollepalli

sephrik... good girl meets bad boy... sparks are sure to fly if they are the protagonists... interesting read

05/23/2023 17:01