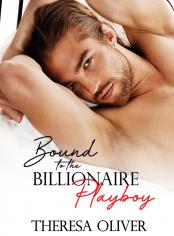 Bound to the Billionaire Playboy
eGlobalCreative
196.4k Words / Ongoing
Start Reading
Add to Library
Introduction
My name is Henley Douglas.
I survived leukemia, and fell in
love
with the
doctor
who delivered the news.
Now, he wants to marry me.
In exchange, he will give me everything… except his
love
.
He gave his heart to one woman who shattered it long ago.
Now, I'm left to pick up the pieces.
Five years ago, my sister, Ari, married
Prince
Grayson of Estrea in an
arranged marriage
.
Now, neither could imagine their lives without the other.
Will my
arranged marriage
be the same?
Or will it end in disaster, leaving me shattered, as well?
Can I marry and give my
love
to a man who may never
love
me?
Will he
love
me, too… one day?
Or am I condemned to live in a
love
less
marriage
, a gilded prison?
Maybe I can
love
enough for both of us.
Or maybe it will destroy me.
Only time will tell.
Continuation of Bought by the
Billionaire
Prince
by Theresa Oliver.
Bound to the
Billionaire
Playboy
is created by Theresa Oliver, an eGlobal Creative Publishing signed
author
.
READ MORE
Comments
Linda Strandquist

z1x3 this one has started out as good as the first book. hope it continues on the same way.

04/24/2023 00:15

Marvin Vanderkust

z1xr Ohhh I will purrr...with this one always exited to read story line with an age gap.

04/23/2023 23:27

Awurabena Afriyie Asare

z1x3. I believe i have to have this book in my library. just when I thought I was gonna be cool , i have this book to read love it

04/23/2023 22:09

Reader-915774

z1x3 love this as it's a sequel to her first book about her sister Ari. it's a great read!

04/23/2023 21:05

Tricia Freligh

z1x3 Looks like I'm going to have to add the other book to my library too. I look forward to see how this will play out.

04/23/2023 18:03

Maria Cecilia Reyes-Meliton

z2x3 This is a really good read. It holds your attention from beginning to end. Very hard to put down once started.

04/23/2023 16:45

Helen M

z1x3 So far, I'm enjoying this story. The writing seems ok - not a lot of editing errors - and it seems to flow nicely. As this is a sequel, I'll add it to my library and finish reading it after I've read book 1.

04/23/2023 15:59

Amal Samir

Z1x3, the intro intrigues you to read the book as it doesn't show much of what happens in the book. Also, The story line is different from other stories.

04/23/2023 12:59

Vicki usher

z1x3# the introduction is good not giving to much away just enough to make you interested. I hope it can be read as a standalone book as I want to start it now

04/23/2023 11:42

John Robinson

z1x3 This story looks really interesting I have already read the first few chapters. I think I will read "Bought by the billionaire prince' while waiting for this story is completed.

04/23/2023 09:04