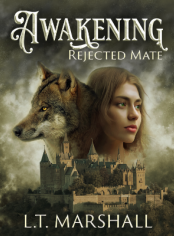 Awakening - Rejected Mate
Leanne Marshall
402.8k Words / Completed
Start Reading
Add to Library
Introduction
Alora Dennison is an orphaned child from a shamed bloodline, surviving in her
family
's old
pack
.On the dawn of her transition pushing her into adulthood, in an unexpected turn of
fate
, she imprints on the
mate
she will be bonded to for eternity. Only he isn't the man of her dreams. He is the only one in the entire state she would never have wanted to bond to. Colton Santo is the
arrogant
,
dominant
son of the
Alpha
from a rival
pack
, which is set to unite the
pack
s and reign in one
king
dom. In years gone by, his disdain for her and any from her bloodline has been prominent. Her treatment by his
pack
has pushed her to live in near isolation, fearful for her existence. And now, on the dawn of her awakening, before all those assembled, they see her imprint on their future leader. Fate has decreed it, but everyone around her is about to try and stop it. Fate isn't about to make it easy on her either, as a long-forgotten
war
erupts in their lands, bringing an age-old
enemy
with a thirst for blood back into the forefront of
Lycan
thrope
life
.Will she survive long enough to ever find out why she has borne a black mark on her lineage her entire
life
? And why Colton's father is so eager to see her dead. Will Colton step up and honor the bond, or will he be the one to deliver the final blow?
READ MORE
Comments
Switch Fix

#50%offread From enemies to lovers makes for a decent read when people give up on their ideas of you and actually get to know you.

08/31/2023 14:37

Read Feeder

#50%offread People that hold on to bias and tradition often miss out on blessings just cause they can't get past the past.

08/31/2023 14:09

Piper Parker-Pearson

loving it already!

08/29/2023 22:25

Bethany River

#bingeread Overall great book, however somewhat repetitive in certain chapters and slow to progress. Would still recommend as it is worth reading and really enjoyable

07/25/2023 10:52

Sihle

#bingeread sounds interesting, I'm only starting out but wanna see where it goes... I hope it's not the typical story line though

07/20/2023 18:16

Kimberly Elliott Moore

Brilliant explanation of how you feel just after giving birth. It is like you know biology will make you forget the trauma, but you want to hold onto it, like a badge of achievement. I love how you write. These characters are written so well they are like old friends at this point. I am going to be sad for the story to end!

06/17/2023 10:10

Tanya Donati Breitenbach

I throughly enjoyed this story! The only thing negative is that it's over. You are a wonderful writer. I'm looking forward to more in the series.

06/07/2023 05:28

Sammy

y6u9 Book has a good start and looking forward to completing this story. I've added to my library.

04/15/2023 23:42

Reader-431917

y6u9 this book sounds so interesting from the description. I have added it to my library already

04/15/2023 22:33

KayCee Kai Malanos

y6u9 from the plot it has terms new to the regular warewolf books. hoping this is a good read

04/15/2023 20:00