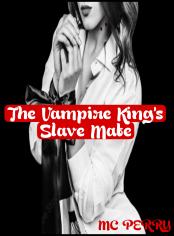 The Vampire Kings Slave Mate
MC Perry
105.7k Words / Completed
Start Reading
Add to Library
Introduction
"How much for this temptress?"
Beta
Daniels asked causing me to flinch at the name.
" 100 jewels." Came a voice from someone sitting up front.
"200." Came another voice.
"500" Hollered another.
The room was silent for a moment.
"500 going once, 500 going twice, Sold to Lord Issacson,"
Beta
Daniels announced.
I felt my heart skip a beat. I had been sold.
" I want her." Came a loud snarl.
Everyone in the crowd grew silent.
"Your…Your highness." Stumbled
Beta
Daniels, bowing down onto his knee. "We weren't expecting you tonight."
" I want her," the
Vampire
King
said again. "She is mine."
"But your highness. She's already been sold."
Beta
Daniels spoke timidly.
" I don't care. I want her." He responded. " What the
king
claims, the
king
gets."
There's talk around the
supernatural
community that Nikolai, is
growing
weak without a
Queen
by his side. As the
king
of
vampire
s, the ruler of the
supernatural
world, who has been on the throne for a millennium, he would never fall in
love
with a blood
slave
he brought from a
slave
auction.
Wouldn't he?
READ MORE
Comments
janna dykierek

nice and interesting Story so farbut please just decide if its neveah or nevaeh

05/26/2023 20:48

Jody Nichols

this is a good book I can't wait to find out if marry is a vampire or maybe something els besides human can wait to find out.

04/02/2023 18:42

Barb Austin

4f5d Started reading an so far very descriptive and it caught my attention send exciting and different

04/01/2023 04:23

Hayley louise

4f5d I find this story not the usual same old. draws you in. I'm excited for what happens next now the vampire King has bought her as a blood slave.

03/30/2023 11:51

Jopas

4f5d I've never fell in love with a Vampire story until I read this one. It's amazing and hot. Great job the Author did put out here.

03/30/2023 11:51

Chika Brooke

4f5d This book is not your usual vampire book,It encompasses other exotic beings like fairys,dragons,werewolf etc.The story line is superb with so many twists that keeps you on the edge of your seat.I loved reading it and stopped till the end. Its a must read

03/30/2023 11:01

Maria Cecilia Reyes-Meliton

4f5d This is a fantastic story ! I could not put it down after starting to read it.

03/30/2023 10:56

Jan T

4f5d #4f5d I read the first few chapters and I must say it is good! I'm not usually into Vampire stories so I'm keen on this story

03/30/2023 10:39

middi

4f5d - interesting that there is a slight twist on the usual vampire narrative. never seen a vampire that potentially has a mate, it's usually the werewolves. curious to see how it unfolds

03/30/2023 10:21

Madelein Schoeman

4f5d - another amazing book! love the 2 main characters but also live the fact that the author incorporates the second in command and his love slave as well as the Dragon Twins. You also don't expect the book to end the way it does!! Go Queen👑. The author also teases you with spin off stories mermaids and fairy kings.

03/30/2023 10:19