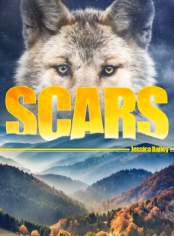 Scars
Jessica Bailey
183.9k Words / Completed
Start Reading
Add to Library
Introduction
"I, Amelie Ashwood,
Reject
you, Tate Cozad, as my
mate
. I REJECT YOU!" I screamed. I took the silver blade dipped in my blood to my
mate
mark.
Amelie only ever wanted to live a simple
life
out of the spotlight of her
Alpha
bloodline. She felt she had that when she found her first
mate
. After years together, her
mate
was not the man he claimed to be. Amelie is
forced
to perform the
Reject
ion Ritual to set herself feel. Her freedom comes at a price, one of which is an ugly black scar.
"Nothing! There's nothing! Bring her back!" I scream with every part of my being. I knew before he said anything. I felt her in my heart say goodbye and let go. At that moment, an unimaginable
pain
radiated to my core.
Alpha
Gideon Alios loses his
mate
, on which should be the happiest day of his
life
, the birth of his
twins
. Gideon doesn't have time to grieve, left
mate
less, alone, and a newly single father of two infant daughters. Gideon never lets his
sadness
show as it would be showing weakness, and he is the
Alpha
of the Durit Guard, the army and investigative arm of the Council; he doesn't have time for weakness.
Amelie Ashwood and Gideon Alios are two
broken
werewolves
that
fate
has
twist
ed together. This is their
second chance
at
love
, or is it their first? As these two
fate
d
mates
come together, sinister plots come to
life
all around them. How will they come unite to keep what they deem the most precious safe?
READ MORE
Comments
Lea Marie

Is Mated to a Demigod only 18 chapters??? just wondering since it's connected with Scars and it says Completed. I do love the book Scars tho and looking forward to reading the other 2 books that go with this one. 💙🌹🙃😊🍀

12/05/2023 07:08

Mojgan GM

#win bonus this is a good story and pulled me in with the introduction of Gideon. well done.

08/12/2023 19:00

Renea Adams

I think the girls that gave her trouble when she first got there is part of it!

07/25/2023 09:44

Reader-756868 em

love it

05/07/2023 16:13

Reader-350476

r2e9 This is really a good book to read I think Amelia is the new mommy of the two girls and Gideon second chance mate,I'm so excited.

04/13/2023 04:58

Sharon Milton

r2e9 I have read the beginning of this book then it got lost and disappeared so glad it is back

04/11/2023 17:57

Marga Timmer-Roossien

w9g8 really nice book to read

04/11/2023 10:26

Sharon Milton

r2e9 I have read this book to the end so have started from the beginning again to recap

04/09/2023 04:44

Linda Strandquist

r2e9 stand strong and be there for your girls that will improve your lives if you let them 👍

04/09/2023 03:37

Megan Phillips

r2e9 The introduction to this story makes me want to dig right into this book. I can't wait to see where this one goes.

04/09/2023 01:01