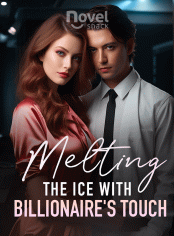 Melting the Ice with Billionaire's Touch
Leanne Marshall
1.5m Words / Completed
Start Reading
Add to Library
Introduction
I have everything in my
life
all figured out. My job in a Manhattan empire is perfect, allowing me to maintain a quiet and organized existence. After a childhood filled with
pain
ful memories,
abuse
, and a useless mother, this sense of security is a necessity for me. But along with it comes a problem that could disrupt everything I thought I needed.
My promotion places me in close proximity to Jacob Carrero, a young, incredibly
attractive
, and
playboy
billionaire
with a notorious reputation. I now find myself stuck as his right-hand man, spending every wa
king
moment with him.
It
doesn't take long for me to realize that he's exactly the type of person who could drive me
crazy
, and not in a good way. We're like chalk and cheese. He's impulsive,
confident
, laid-back,
dominant
, and enjoys casual
sex
and dating without much thought. I, on the other hand, am compulsive, reserved, and cautious.
Despite his carefree attitude, Jacob is the only one who can break through my composed exterior. He's not phased by my closed-off demeanor and cool manners. But as much as I may want to, letting him into my heart is another thing entirely. My
pain
ful past has made me
war
y of men, and I have no desire to let anyone get close enough to
hurt
me again.
However, Jacob Carrero is not someone who takes no for an answer. He wants to be more than just another person seeing my façade, who is learning how to break through my defenses.
What should I do?
READ MORE
Comments
LouValfa

June I've not been hooked by this story. According to me the introduction is too long, and I've been discourage by the number of chapters. I don't like when the characters are harassed or abused. But regarding the other comments, the story has a good futur.

06/24/2023 10:47

Aisha Ali

JUNE I loved the introduction it was beautiful so she was abused and shows she might have trust issues and a play boy who likes flirting and sleeping around only to be tamed by her is just what I need

06/24/2023 09:00

Lori Holden

June. I like the intro and the first chapter was good of if is in my easy too read. I have edde ti my library. hopefully he is a good husband and no rotten. he abuse will not help her bit hopefully she will uncover it and move on

06/24/2023 07:19

Michelle van der Kleij

June i love the introduction of the book, i like it when he Needs te prove himself , to show her that he is changed and because of her abuse and difficult childhood it won't be easy, defenitly save this in the library

06/24/2023 07:03

Mirela

JUNE From the first 2 chapters I understand that the 2 girls are opposite in characters. One is more organized and the other is less stressed regarding the life. I don't see where this story goes, so I will not add it in my library.

06/24/2023 04:02

Karin Tuchman

JUNE it's the same book why are there two books with the same title and are the same book it's very confusing. I feel like I don't know which one is the right one . why is it happening.

06/23/2023 23:08

Karin Tuchman

JUNE hey nowwwww what is going on , it's the same book the same everything . I wished this type of book would have spoken to me but it isn't. I belive the author dose a good job . but unfortunately for me it didn't work .

06/23/2023 23:05

Karin Tuchman

JUNE hey nowwwww what is going on , it's the same book the same everything . I wished this type of book would have spoken to me but it isn't. I belive the author dose a good job . but unfortunately for me it didn't work .

06/23/2023 23:04

Awurabena Afriyie Asare

JUNE Wow. I love the introduction of the book. It is so interesting when a play hoy suddenly changes from his way just because he met someone that he has to change his old ways for. But believing in this person after who everyone believes he is is the problem. But i am rooting for this guy to win the heart of this lady that has been abused all her life and has left an indelible mark on her heart. More wins my boy. All the best.

06/23/2023 18:46

miss foodieeee😋😋😋

June hey nowwwww same book same everything just the author is different howwwwww between this and L.T who took whose book? anyways guys be very careful with all this sharing stuff

06/23/2023 15:47