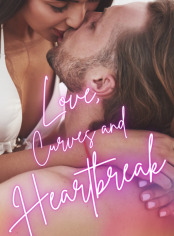 Love, curves and heartbreak
Kika_Nava
132.3k Words / Ongoing
Start Reading
Add to Library
Introduction
"Open for me
baby
..." He almost begged me, and I'm undone.
His hand is between my legs, and again he started caressing me, every part, in and out like he wanted to know all of me. I think that never in my
life
a man touched me like this.
But Ethan was determined, he started rubbing, pushing, and I couldn't
help
myself as I cried in pleasure, arching my back and throwing my head back. My hands are pressed in his back, my nails digging.
He pushed one finger inside of me, out and in, rubbing with his thumb in that place that made me
crazy
. He just kept going at it, ma
king
my insides climb higher and higher, until I was ready to my climax.
"Ethan my god…" I cry in .
But I was too busy breathing and moaning trying to hold myself together. I cried out, pushing my core against his hand because I wanted more and more.
Priscilla, a curvy,
shy
and lonely girl has had a difficult adolescence, but finally her adult
life
is on the right track, she has a good job and has already made peace with her appearance. Until her
childhood crush
shows up: Ethan Fairfax. Not only is her childhood and her first
crush
... but the man who haunted her
teen
age years. Unfortunately, he came back to work with her in an important role in the company … more
attractive
than ever.
She clearly heard him say… "Who would fall in
love
with a girl like her?" and that's when the nightmare started. Because of her curves and her weight, she was the joke of the entire
school
for years. He left the country for a long time, but now Ethan returns and does nothing but hunt down Priscilla.
Will she be able to forget what he did? Can she run away from Ethan? What's his sudden interest in her after all this time?
READ MORE
Comments
Megan Smith

I did not want this story to end!! It was so good!!

09/02/2023 13:09

Tammy Tilbe

want to read this so bad taking forever to unlock all the chapters

07/01/2023 21:54

Zoya

The book is lovely! I loved the characters

06/03/2023 10:20

Bridget Geraghty

Loving it so far, I do hope we get Ethan's POV

05/20/2023 13:11

Zoya

f6g7 I really loved the story, congrats to the writer. I enjoyed the characters and their love story, I binge read it in 2 days

04/26/2023 12:21

Life as Maya Oneal

can't wait till the both of them know what he said and what she heard

04/21/2023 06:32

Imme87

liking it so far. ❤️

04/12/2023 22:45

Kika_Nava

Hope everybody is enjoying the story 💗 and if you are looking for some werewolf romantic novel, you can checa my last story "Her cursed alpha" that is algo complete 🤩

04/06/2023 16:08

Linda Strandquist

u3i8 high school tormentor returns. thankfully i moved away from my high school area. hope the meeting goes well and she stands up for herself some how some where.

04/06/2023 05:57

Me Myself

u3i8 Interesting book so far. I hope the story is complete so we can enjoy it to the end.

04/06/2023 01:05