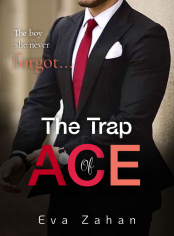 The Trap Of Ace
Eva Zahan
182.2k Words / Completed
Start Reading
Add to Library
Introduction
Seven years ago, Emerald Hutton had left her
family
and
friends
behind for
high school
in New York
City
, cradling her
broken
heart in her hands, to escape just only one person. Her brother's best friend, whom she
love
d from the day he'd saved her from bullies at the age of seven.
Broken
by the boy of her dreams and
betray
ed by her
love
d ones, Emerald had learned to bury the pieces of her heart in the deepest corner of her memories.
Until seven years later, she has to come back to her hometown after finishing her college. The place where now the cold-hearted stone of a
billionaire
resides, whom her dead heart once used to beat for.
Scarred by his past, Achilles Valencian had turned into the man everyone feared. The scorch of his
life
had filled his heart with bottomless
dark
ness. And the only light that had kept him sane, was his Rosebud. A girl with freckles and turquoise eyes he'd adored all his
life
. His best friend's little sister.
After years of distance, when the time has finally come to capture his light into his territory, Achilles Valencian will play his game. A game to claim what's his.
Will Emerald be able to distinguish the flames of
love
and desire, and charms of the wave that had once flooded her to keep her heart safe? Or she will let the d
evil
lure her into his trap? Because no one ever could escape his games. He gets what he wants. And this game is called...
The trap of Ace.
READ MORE
Comments
Jules Marie

9b4k I've read this on a different platform long and drawn out, but I liked it. I always wished she had more backbone though

04/02/2023 02:41

Michibeba

#9b4k# just from the introduction it seems like an interesting plot line and the fact that the attraction has always been mutual always makes for a fun story to develop

04/01/2023 18:26

Jan T

9b4k #9b4k I have heard of this story before and after reading the introduction and comments, I'm intrigued by the story and will this story a try

04/01/2023 15:07

Jenna Mc Augustine

9b4k. great read. I was bit sad to see she wanted to change herself for him but everything fell in place in the end

04/01/2023 11:18

Kitty-694016

9b4k. excellent story and a nice break from werewolves. I especially like Em being suspicious of him and his motives.

04/01/2023 10:02

Rosetta Canham

OMW #9b4k# I was totally absorbed in this story

04/01/2023 08:45

Vicki usher

9b4k# loved this book kept you on the edge of your seat with highs and lows. A total emotional roller coaster would highly recommend

04/01/2023 08:45

Reader-529162

#9b4k# Reading this was like being on an emotional roller coaster for me. Lots of highs and lows!

04/01/2023 08:31

Bwebwennang Kelese

I just love this book. I enjoyed reading it

01/15/2023 13:29

Vilma Carpin Buhawe

I am not fond of stories with immature and too self- absorbed as main characters.How can you hold such indifference and hostility to people because of your feelings alone.

11/16/2022 16:46