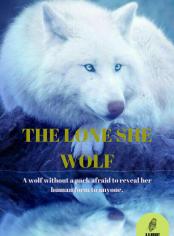 The Lone She Wolf
A.K.Knight
97.5k Words / Completed
Start Reading
Add to Library
Introduction
"You look
mature
for your age," he said, with a raspy voice as he pinned me to the close door with one hand and the other zipping his black pants down.
My heart beat rapidly within my chest, allowing my body to tremble.
It
was the first time I've seen the nakedness of a man, especially his manhood...
"W...what're you doing here?" I gulped.
He lowers his
lips
to my neck and whispered
lust
fully, "I'm here...to mark you."
Avery
War
ren is an eigh
teen
year old she-
wolf
. From birth she was blessed by the moon goddess in having a
beautiful
unique appearance that could capture any man heart.
It
was a gift but also a terrible curse that led to the
death
of her entire
pack
.
Before her parents was
murder
ed. Avery could only recollected the very first words her mom said to her before she died was to never reveal herself to anyone and to keep on running.
Avery is now all alone without a
pack
, a home, clothes, food and anyone to
love
her until she met Liam Payne a
powerful
, deadly
alpha
who everyone fears. Liam had accidentally protected her from his worst
enemy
Alexander Thomas who had made an attempt to take Avery as his own after seeing her nude
human
form for the first time.
Liam as never seen Avery shifted and wants nothing to do with her, but to get rid of her permanently for she had only cause a terrible threat to his
pack
.
Will Avery ever stop running from her past and find
happiness
in being apart of Liam
powerful
pack
; After she had been
rejected
by him numerous times?
The lone she-
wolf
is a steaming,
hot
novel; fill with bare pleasure and excitements.
☡WARNING☡ MATURE CONTENT. SUITABLE FOR THE AGE OF
18
AND OLDER.
READ MORE
Comments
Joey Idontwanttousemylastname

The grammar is horrendous, I can't get past the terrible writing. This is not storytelling. This is a poor attempt at writing, adding some smut to try and make it interesting, but no real effort. I can't bring myself to try and get through anymore of this weak story.

07/25/2023 00:14

Gloria Smith

it's too descriptive for me.

07/18/2023 05:26

Daisy Francisco

Avery-AS This is really a good book to read,The main character is really beautiful and it is interesting story.

06/13/2023 22:15

AmberLu

Avery-AS I need to read more of the book because so far I dont know if I like it.

06/11/2023 20:04

miss foodieeee😋😋😋

Avery-AS I do like the intro (believe me it's really good🤭) and also read like the first chapters ; I really like it so far but just need to improve little bit more in the grammar but rather than that ITS AMAZING won't like I love it (and already in my library 🤭🤭🙈🙈) so all the best for ur future writings 🤗🤗

06/11/2023 19:43

Sharon Milton

Avery-AS I have started to read this book and cannot put it down as want to know how she is and who she is so know I am putting a hold on all of my other books so that I can finish this one

06/11/2023 15:41

SpudFoxy22

Avery-AS over heard amazing things about this book and I can't wait to get stuck in to it

06/11/2023 11:28

Gemma Butler

Avery-AS Going from the book's introduction, this book sounds like it could be a really good story to read but unfortunately I think the book needs to be edited first. There are a few parts that are difficult to understand

06/11/2023 10:31

Jan T

Avery-AS I have heard of this book awhile ago but didn't want to read it due to the quality of the writing. I do feel sorry for Avery having such a sad start to life. goos introduction though. I'm curious how the story will develop.

06/11/2023 09:50

Martial Flor

Avery-AS the idea behind this story is quite interesting, but I cannot say that reading it is a particularly exceptional experience - from the synopsis alone one can already tell how much editing and proofreading this story needs. and as others mentioned, character development is lacking

06/11/2023 08:27