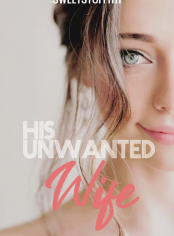 His Unwanted Wife
Sweetstuff1111
78.8k Words / Completed
Start Reading
Add to Library
Introduction
Sabrina Reed is Nathan Alden's
wife
, but not by his choice...
"I found her like this, Sir." The guard announces.
Sabrina rubs her eyes to get the blur cleared away from her vision.
"What are you doing out here Sabrina?" Nathan spoke between his teeth.
She sits up and fixes her messy hair.
"What are you doing out here?" He spoke louder this time. Demanding an answer. He was
wearing a jet-black suit and a white button-up shirt. His eyebrows were creased and his arms
were crossed.
"I came back late last night, and the guard was gone, so I just fell asleep."
He dismisses his guard with a nod of his head and glares at her suspiciously. "Where were you
last night?"
She yarns. "I've been volunteering at the animal shelter."
"Get up," He orders sternly. "You expect me to believe that? Don't animal shelters close at a
decent time?"
She was still sitting because her legs were sore.
"Yes but"
"Get up!" He yells this time.
His shouting startles her, causing her to panic and stand up immediately. Her knees instantly
buckled on her. All her leg muscles were knotted up and throbbing in
pain
. She takes a sharp
intake of breath and tries to catch herself.
"Shit." He grabs her and lifts her effortlessly into his arms.
"What's wrong with you?" He asks as he puts her into his black luxury car. She hadn't even
realized he had driven it to the front of the gate.
Before she could answer him, he shut the door. He then climbs into the driver's seat and moves
the car up the driveway in front of the mansion.
"Answer me." He barks "Do you know how it must look? He glances at her expecting an answer."What?" She mutters softly.
"That I didn't know my
wife
has been missing all night?
READ MORE
Comments
Yvette Dargbe

Because she likes to work for her money, makes her money grabbing lol Damn who hurt you?

07/30/2023 00:08

Reader22

LOVED this book! With so many twist and turns in the storyline, it was easy to become entranced by every word. #bingeread

07/28/2023 03:36

Jan 23

this is one of the best ever!!

07/01/2023 19:11

Chawada Musvaire

JUNE -AS I would why hee father arranged this marriage for her. Their world seem so far apart so how did she end up here. I love how the author has taken a gradual build of the storyline and not a dramatic explosive beginning. I look forward to to reading more of the story. 👏🏽👏🏽👏🏽to the author, skilful and excellent writing

06/26/2023 14:57

Daisy Francisco

JUNE I love this book it's kind a interesting and intriguing but there's a lot of drama and a lot more on the story too.

06/26/2023 12:55

AngelaCCoelho

JUNE - With that kind of introduction, I can already be sure that this book will be very good. And this pair must be amazing to make me fall in love. I can already see that they faced many things together and fought a lot. I really want to read this book. I really want to get into this story.

06/26/2023 12:53

Aisha Ali

JUNE I would love to read this book but I can't stand the fact that the male lead is soo cold and arrogant towards his wife even if you don't want her at least treat her with respect

06/26/2023 10:58

jules kc

JUNE I will add this book to my library. It is interesting and I am intrigued to find out more about why her father married her off and the family agreed and to get to know her sister-in-law and how it will go on with the animal shelter.

06/26/2023 09:38

jules kc

JUNE but her sister seems nice, I am looking forward to reading more about her. hopefully she will be her ally in this whole thing. and I am interested in what she will be doing with her working.

06/26/2023 09:30

jules kc

JUNE I do not like Nathan and his people. they seem really rude and how can you treat somebody with so little respect?? I do not get it seriously those people with so much money are horrible

06/26/2023 09:29