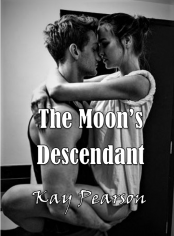 The Moon's Descendant
Kay Pearson
481.7k Words / Completed
Start Reading
Add to Library
Introduction
!!
Mature
content
18
+ !!
"You think I'm going to let my daughter sleep with whoever she wants" he spat. He kicked me in the ribs, sending me flying back across the floor.
"I didn't" I coughed, gasping for air.
I felt as though my chest had caved in. I thought I was about to vomit when Hank grabbed my hair and lifted my head. CRACK.
It
was like my eye had exploded inside my skull when he punched me in the face. I landed on the cold concrete and pressed my face onto the floor. He used his foot to roll me over so that I was on my back.
"Look at you, you disgusting c**t" he huffed as he crouched down beside me and wiped the hair from my face. He smiled, a terrifying
evil
smile.
"I have something extra special for you tonight" he whispered.
Hidden in the
dark
forest, on Cape Breton Island, lives a small community of Weres. For generations they remained hidden from the
human
s and maintained a peaceful existence. That is until one small woman joins their
pack
and throws their world upside down.
Gunner the future
Alpha
, serving as a knight in shining armour saves the young woman from certain
death
. Bringing with her a mysterious past and possibilities that many had long since forgotten, Zelena is the light they didn't know they needed.
With new
hope
, comes new dangers. A clan of hunters want back what they believe the
pack
has stolen from them, Zelena.
With her new powers, new
friends
and new
family
, they all
fight
to protect their homeland and the gift that the
Moon Goddess
has bestowed upon them, the Triple
God
dess.
READ MORE
Comments
Sunflowher 🌻

I love this book. I love your writing style. the two different perspectives give a really clear picture of the story.

03/19/2023 21:29

Vilma Carpin Buhawe

I can't stand reading like this extreme cruelty especially from a parent anymore. I've read lot with the same plots.I know it's fiction but the cruelty is too much and unrealistic and her wolf is not even helping her.

02/09/2023 18:38

Vilma Carpin Buhawe

Why is her wolf not protecting her against her father?

02/09/2023 18:24

Claire Morrison

loved this hard going reading double chapters but worth it

01/25/2023 23:03

Reader-411492

loved the story would love to read part 2. where can I find it?

08/27/2022 19:42

Christine Barrett

I love the story but if the whole book is double chapters both perspective I will quit early I don't want to re read every dam chapter. bring both together in the same chapter.

07/30/2022 00:23

Stacey Burrows

the other book arent on anystories? i can't find them

07/16/2022 18:20

Marissa Hayden

will they be released here?

07/04/2022 16:47

Kay Pearson

Check out my Facebook for the second and third book in this series. Kay Pearson Author

06/26/2022 07:49

Lisa Costa

when is the next book coming out?

06/10/2022 18:19