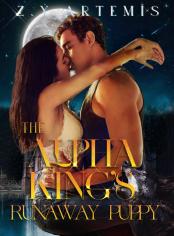 The Alpha King's Runaway Puppy
Z.Y.Artemis
101.2k Words / Completed
Start Reading
Add to Library
Introduction
"I won't marry you, it's just an accident."
I buried my face in my hands, trying to block out the sight of the
Alpha
's strong, naked body next to me. He had just proposed, but I didn't even know his name. What the hell had I done last night after getting drunk?
"
Accident
? You are my
mate
. Didn't you feel that?" He gripped my hand tightly, his eyes burning with danger.
"No, that's impossible..." I exclaimed in panic.
Because I was a
wolf
less
Omega
.
Harper Laurier was one of the daughters of the Slivergray
Pack
Alpha
, but not the real one. As a
wolf
less
Omega
, she was nearly isolated and
bullied
by the entire
pack
.
Heartbroken
and battered, she decided to leave the
pack
and find a way to awaken her
wolf
. But an accident brought this ordinary
18
-year-old girl's
life
into contact with the first
prince
of the
Werewolf
King
dom.
The dangerous and charming
prince
claimed to be her
mate
and asked for her hand in
marriage
, but Harper didn't feel it at all.
Should she promise him? Or should she live a
life
uncontrolled by anyone?
As the first heir to the
Alpha King
, countless
assassin
ation attempts left Wyatt Elliot cold and paranoid. He decided to trust no one, and nothing could stop him from ascending to the throne.
However, a girl suddenly entered his
life
and opened his long-frozen heart. Her fatal
attraction
told him she was his
mate
. He couldn't wait to make her his own, but she was una
war
e of the
mate
bond and even tried to run away from him.
How would Wyatt treat the first girl to reject him?
Should he forcefully possess her or gently win her trust and heart?
READ MORE
Comments
Z.Y.Artemis

One new chapter done!!! The elder knows everything🥸

08/04/2023 22:20

Z.Y.Artemis

Released a new chapter! They got a big fight today🤬🤬🤬

08/03/2023 16:03

Z.Y.Artemis

Chapter 62 is coming!

07/29/2023 10:40

Z.Y.Artemis

Chapter 61 is updated today! Wyatt finally found out Harper's identity. What would they do?

07/27/2023 10:31

Z.Y.Artemis

The chapter updated today is Chapter 60--ONCE YOU HAVE TOLD YOUR FIRST LIE, YOU WILL HAVE TO TELL COUNTLESS OTHERS. Hope you enjoy the story🥰

07/23/2023 19:07

Z.Y.Artemis

The chapter updated today is Chapter 59--YOU ARE NOT HER. Hope you enjoy the story🥰

07/21/2023 15:42

Z.Y.Artemis

The chapter updated today is Chapter 58--I'M AFRAID YOU'RE GOING THROUGH SOMETHING ALONE. Hope you enjoy the story🥰

07/19/2023 12:07

Sammy

I got to the end of the 13th chapter and could not go any further. The FL is frustratingly stupid and annoying. The storyline is poorly written. It's an extreme slow burn and highly drawn out making the book become boring. What a waste!

06/28/2023 22:01

Z.Y.Artemis

The chapter updated today is Chapter 56--A WITCH SHOULD NEVER MESS UP WITH A WEREWOLF. Hope you enjoy the story🥰

06/28/2023 18:17

Awurabena Afriyie Asare

JUNE Wow. This book is very interesting. I don't why one can sense his mate but the other can't. But it's also strange and unbelievable that no matter what the other person is not feeling, the other party is willing to help his mate to also feel the amazing bond. It was an accident that these love birds met. But also i believe it is by fate. I just hope they can withstand all the tribulation that may come.

06/27/2023 08:50