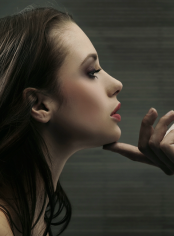 Alpha King's Substitute Omega Bride
Jane Above Story
278.2k Words / Ongoing
Start Reading
Add to Library
Introduction
"F**k me to
death
if you must, you asshole," I sobbed.
I felt defeated as I lay beneath the
Alpha King
's hardened body. He was pressed heavily against me. Tears stained my features and he stared around my face, curiously. He had paused for a long moment, breathless and trembling.
Just moments ago, he was ripping my custom-made wedding gown off my thin body and shredding it to pieces. I trembled uncontrollably as he pressed me against his bed, kissing every mark of my body and biting me until I bled.
His
dark
blue gaze had gone
wild
and at that moment, I truly feared for my
life
. I feared that the night of my wedding night was going to be the end of my
life
altogether.
The memory of the day invaded my mind as I kept thin
king
to myself, "how did I end up here?"
To save her little brother, Hannah was
forced
to take her stepsister Amy's place in the
arranged marriage
, marring the
cruel
Alpha King
,
Pet
er. Little did she know, there will be so many dangers await her.
Alpha
Pet
er, the most
arrogant
, cold and strongest man in
werewolf
King
dom, he accept this
marriage
because he needs to find his
mate
, as it was foretold. Only his
mate
can save him from his frantic fury. He has no idea that soon he finds himself falling for this little
omega
girl.
READ MORE
Comments
Angie Townsend

very well done so far

07/21/2023 13:49

Linda Strandquist

b2n7 love this book. have to say I almost gave up on it. but glad that I went back and finished it. sit down a read it it long but keep reading.

04/03/2023 04:12

Jan T

b2n7 #b2n7 interesting introduction. I'll add this story to my library. loving the comments. I'm interested in how the story turns out

04/02/2023 11:56

Reader-731248

b2n7 I think the plot seems quite good, and it will be very interesting to see how the story develops.

04/02/2023 11:06

Joele G

b2n7 off to a great start so far; enjoyed the first chapter; didn't like how her family had treated her and how her little brother was being used a pawn.

04/02/2023 10:11

Jody Purple

b2n7 I love this book, and I love the intelligence of the main female character. I can't wait to make my way through this one.

04/02/2023 10:03

Mirela

b2n7 I like this book, because the characters are interesting. What I don't like about the main characters is the lack of trust and the constant blaime.

04/02/2023 10:01

Kerry Graham

B2n7 just started reading it and I am really enjoying it so far and look forward to seeing what happens

04/02/2023 07:55

samantha Crichton

b2n7 I absolutely love this book! even though the main characters struggle to communicate to start off with which is really really frustrating!!

04/02/2023 07:14

Lynn Johnson

b2n7 - Just started reading and am hooked , can't put it down.

04/02/2023 07:00