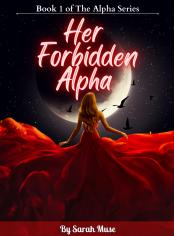 Her Forbidden Alpha
Moonlight Muse
151.0k Words / Completed
Start Reading
Add to Library
Introduction
"This is wrong..." she whimpered pleasure consuming her.
"You want me just as much as I want you, give in to your desires
sweet
heart and I'll make you feel so fuc
king
good, that you won't ever want another man to touch you," he whispered huskily ma
king
her core throb.
That was what she was afraid of, that when he was done with her, she would be left
broken
…
Scarlett Malone was a feisty headstrong young she-
wolf
, blessed by the moon goddess as the first
Alpha
Female.
Moving to a new town with her mother to start afresh, they were welcomed into a new
pack
and a new
family
. Things became complicated when she begins to feel attracted to her
handsome
, smart, and cocky stepbrother, the future
Alpha
of the
Blood
Moon
Pack
.
Will she be able to overcome the illicit thoughts that consume her mind and awaken a pleasure deep within her? or would she push even her own boundaries and explore the
forbidden
feelings that burned within her?
Elijah Westwood, the most popular boy around, and one every girl wished to have a taste of. A player who didn't believe in
love
, nor
mates
. He was twenty-one and was in no rush to find his
fate
d one, enjoying
life
as he was, with no shortages of women to bed.
What happens when he returns home only to find that he's begun to see his step-sister in a new light? Knowing that when the mating ceremony came, she would find her
mate
.
Will he
fight
against everything for her, or would he let her go?
READ MORE
Comments
D Coneghan

excellent book-- couldn't put it down but then was sad I finished it 😥 sooo looking forward to reading more of this author's work 🤗

05/10/2023 04:47

Ashley Haasnoot-de Heer

love this story

04/21/2023 20:25

Debbie Cuza

p5m8 I really enjoyed this story! Its a forbidden love story with lots of twists and turns as the FL conquers her past and her identity! I love her strength and the chemistry beret he ML and the FL

04/17/2023 07:04

Bianca Yetzke

p5m8 I'm enjoying this story so far. added to my library. I'm excited to read more of this book.

04/02/2023 22:39

Jules Marie

p5m8 I really enjoyed this story. It actually has sequels. It I'd captivating from start to finish. Love the strong female lead. Well done author.

04/02/2023 16:06

Jan T

p5m8 #p5m8 interesting introduction and exciting plot. the story is captivating from the get-go. I'm adding this story to my library and I can't wait to start reading

04/02/2023 11:59

Reader-731248

p5m5 I think the plot seems quite good, and it will be very interesting to see how the story develops.

04/02/2023 11:07

Kitty-694016

p5m8. I am really liking strong female characters that stand up for themselves even against mates/alphas. Need to read more!

04/02/2023 08:59

John Robinson

p5m5 It's nice to have a strong alpha female, it makes a change and will continue to read to see where the story goes. So far so good.

04/02/2023 07:56

Lynn Johnson

p5m8 - just started and can't wait to finish. When will you add Her Cold Hearted Alpha and Her Destined Alpha to Readink.

04/02/2023 07:49