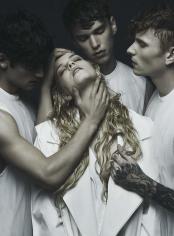 Four or Dead
G O A
139.1k Words / Completed
Start Reading
Add to Library
Introduction
"Emma Grace?"
"Yes."
"I'm sorry to tell you this but he didn't make it." The
doctor
says offering me a sympathetic look.
"T-thank you." I say with a trembling breath.
My father was dead, and the man who killed him was standing right beside me this very minute. Of course, there was no way I could tell anyone this because I would be considered and accomplice for even knowing what happened and doing nothing. I was eigh
teen
and could be loo
king
at prison time if the
truth
ever got out.
Not long ago I was trying to get through my senior year and getting out of this town for good, but now I have no idea what I will do. I was almost free, and now I would be lucky to make it another day without my
life
completely falling apart.
"You're with us, now and forever." His
hot
breath said against my ear sending a shiver down my spine.
They had me in their tight grip now and my
life
depended on them. How things got to this point it's hard to say, but here I was…an orphan…with blood on my hands…literally.
Hell on earth is the only way I can describe the
life
I have lived.
Having every bit of my soul being stripped away each and every day by not only my father but by four boys called The
Dark
Angels
and their followers.
Tormented for three years is about all I can take and with no one on my side I know what I have to do...I have to get out the only way I know how,
Death
means peace but things are never that easy, especially when the very guys who led me to ledge are the ones who end up saving my
life
.
They give me something I never thought would be possible...
revenge
served dead. They have created a monster and i am ready to burn the world down.
Mature
content! Mentions of drugs, violence, suicide.
18
+ recommended. Reverse
Harem
,
bully
-to-
lover
.
READ MORE
Comments
MARIANA MONTSERRAT FLORES GONZALEZ

#halloweenvibe

10/27/2023 18:58

Geneva Salazar

I am reading Four or die. It is so good

09/07/2023 22:54

Emma Ajkyrantimmy Boyd

I hope a second book comes out

09/07/2023 00:27

Jeshika

I think you meant to have 1 chapter 52 and 55 luckily they aren't duplicates

08/28/2023 21:29

kristen rain

I wish this book was on other platforms because this one is so hard to read unless u buy into it

08/15/2023 04:45

Reader-177105

Pls why I'm I not able to unlock the other chapters please fix this for me please

08/05/2023 13:24

Bev Males

I'm loving reading this book can't wait to get credit to carry on reading xxx

08/03/2023 17:12

j.hus

so exciting to continue reading

08/02/2023 13:27

Angela Blow

I loved this book from the start which is rare to say. #bingeread

07/28/2023 11:41

Elizabeth Blanco

ok so this guys is obsessed with her but he doesn't love her hes another nut case

07/26/2023 23:37