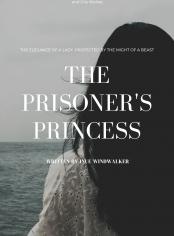 The Prisoner's Princess
inue windwalker
247.1k Words / Ongoing
Start Reading
Add to Library
Introduction
Sequel to The
Wolf
Prince
: His Terrified
Mate
-
War
ning
Sex
ual Content-
Isabelle is the firstborn daughter of
Prince
Kaiden. Her dream is to follow in her father's footsteps. However, she can't compete with her litter
mates
. To make matters worse, she can't find her
soulmate
.
It
seems everything's pointing her to do something she's never done before: to leave the
pack
. But can she handle who she finds? Can she tame a
wolf
of the
wilds
?
Ex
cerpt
He now looked at me with a gaze I couldn't read, but I felt like I was being hunted. "Little
princess
, you are in heat." He said with a soft growl. Heat? No
wolf
I had ever met had one.
"That's impossible… that's something the
human
s made up." I said, bac
king
away a bit. I felt the wetness from my core drip down my leg, and the smell of arousal was unmistakable. He snarled a rumble, putting the deerskin on the log slowly. He sauntered over to me with a
confident
,
dominant
gate. He looked like the
Alpha
he was.
Powerful
. Determined…assertive.
It
had me in a trance. His muscles flexed with every movement, and his eyes were focused on my breasts. They pebbled. I should have looked away. I should have covered my shameful body re
action
s, barely covered by my thin dress, but I didn't.
"If it was impossible, I wouldn't want you this bad, my little
wildf
lower." He said putting his finger under my chin, tilting my head up. He was so close now that I could feel his body heat in the cold of the morning dew, but there was no chill in the air anymore.
READ MORE
Comments
Viola Cordell

I'm surprised byson & izzy don't hv a sound proof rm lol

09/09/2023 01:46

Emily

s2d5 definitely sounds interesting in the blurb will try to read it soon so hoping for greatness lol

04/18/2023 21:32

Reader-731248

s2d5 The introduction does not give a lot of detail about the storyline, but a hot alpha is always a good start

04/18/2023 18:28

Jan T

s2d5 #s2d5 I really like the introduction and the beginning of the story is captivating from the start. I think I'll read the 1st book to grasp the full world of the story

04/18/2023 14:59

Marcia Sheard Whittaker

s2d5 I love this book. I had it in library and absolutely live it. I love the concept of the story and the leading characters. Highly recommend this book.

04/18/2023 13:52

Monique Swanepoel

s2d5 live this cover, it wants me to start reading this. storyline looks very very good.

04/18/2023 13:40

Ashley

s2d5 I have read the first book and look forward to reading the second. I love the characters from the previous book and can't wait to see where this story goes.

04/18/2023 13:37

Joele G

s2d5 this book seems to be a good read; intrigue with the storyline; got my attention from the start; will be adding book 1 before I start reading this book

04/18/2023 08:20

Karooke

s2d5 ui hot, wow.. Das Intro macht Lust auf mehr - schnell Punkte sammeln, damit ich es lesen kann 🤤🥵 interessantes Buch

04/18/2023 07:57

aly

s2d5 when i saw this a sequel i also look for the book before this. i loke how the characters relates in the other books

04/18/2023 06:51