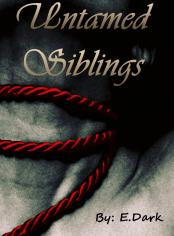 The Untamed Siblings
E.Dark
197.2k Words / Completed
Start Reading
Add to Library
Introduction
*
War
ning* This Book Contains
Ex
plicit Content
This book can stand on its own, but for background reasons, it is suggested that you read
Fighting
Spirit first, as this is the second book in the
Fighting
Spirit series.
Whoever said fairy tales last is full of shit!
Following in the footsteps of their parents, the Rockwell
siblings
share their own
secret
lives as the past comes to slap them "
Royal
ly" in their faces.
A
demon
ic beast plagues Azalea "Lea" Rockwell as she dreams at night, exposing centuries of hidden
secret
s and challenges as she explores the
supernatural
with her
siblings
. Drawn to the
magic
that surrounds N 'Orleans, experiencing the
spiritual
connections as they all discover hidden emotions, desires, and the recognition of their true beasts.
Follow Nikola, Micah, Akai, and Azalea; along with the new members of
Demon
Wolf
, in their
crazy
turn of events as they find themselves and
secret
s unfold for these "Untamed Siblings".
READ MORE
Comments
Jen Nace

I love it keep up the amazing work

05/28/2023 12:28

Jody Purple

d5s8 man is it going to get hot and heavy when she turns 18! damn! what an encounter

04/04/2023 00:15

Joele G

d5s8 I do believe this is a great read but I need to read the 1st book to understand the storyline but I'm intrigue tho.

04/03/2023 21:16

Emily

d5s8 Read fighting spirit and stumbled upon this again. seems like a good start to the book will have to try it out for sure

04/03/2023 20:05

Debra Sykes

d5s8 well I don't know if I will have time to read this book but I have liked it so far and that's just the description so will hopefully have time tomorrow to get first chapter's read

04/03/2023 19:44

Jade Ridler

#d5s8# a strong start to the book with great characters. i love reading these types of books excited to read the rest of the story.

04/03/2023 19:27

Irma Beck

d5s8 absolutely loved this book. it's filled will such passion and love. love how protective the brothers are and how open their parents are. thr book definitely started off with a bang.

04/03/2023 18:31

Barb Austin

d5s8 IT jumped right in seems like a good read but will have to agree with the other readers really need to read Fighting Spirit first

04/03/2023 13:34

nasnas

d5s8 I like it so far but I think I decently have to read the other book for some clarification before I read this one

04/03/2023 12:39

Jan T

d5s8 #d5s8 interesting introduction and great plot. I think I'll read Fighting Spirit 1st to gain some further understanding. this story will be an intriguing read

04/03/2023 11:48