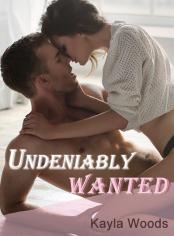 Undeniably Wanted
Kayla Woods
95.6k Words / Completed
Start Reading
Add to Library
Introduction
Heather Drake is a 22 year old who is hiding from her past and trying to start a new
life
in California. She is going to be starting with a new career as a
teacher
at a private
school
. She is
beautiful
& witty and doesn't stand for bullshit. Who wouldn't notice her?.. What happens though when she catches the eye of someone who doesn't want to let her go... Who is attached at first sight and wants nothing else but her.
Xavier Sanford is a 25 year old
billionaire
CEO
who is also a single father. He also is a very dangerous man if need be and takes what he wants. He doesn't believe in
relationship
s since they all disappear in the end however all it took was one glance at a bombshell beauty and he knew... she was HIS.
Preview:
"You will be mine Miss Drake and I do not share." I state sternly.
"Release my arm Mr. Sanford before I force you to." She states giving me a fake smile. I smirk at her. She takes her other hand and squeezes my wrist before
twist
ing it in a
pain
ful position. I hiss in
pain
. "Don't underesti
mate
me Mr. Sanford." She whispers in my ear before gently pushing me away from her. I shake my hand and look back at her.
"This is the only time I will allow you to walk away from me Miss Drake." She turns and glares at me.
"Mr. Sanford, I am no possession of yours. " She pushes the classroom door open and leaves me standing there.
READ MORE
Comments
TDCM

wait I thought Luca slept at Cami's

08/01/2023 01:27

Reader-283176

woow, one of my favorites! you have hot scenes, also something that it VERY different from other books: STRONG FEMALES. very capable and amazing female characters. LOVE IT

07/10/2023 16:22

Amy L

im curious about her past life! where is SHE running from?!

07/04/2023 15:02

Stephanie T-H

y6u9 I am curious about the stuff our young beautiful teacher is running and hiding from. I'm not real big on romance as a genre...spice it up with shifters or something supernatural and I can put up with the romance but straight romance...not so much... I'll add this to my library and get back to it when I need filler.

04/16/2023 02:43

Jenna Mc Augustine

y6u9 I'm intrigued. the introduction is good. definitely going to try this book

04/16/2023 00:14

Sammy

y6u9 Book has a good start and looking forward to completing this story. I've added to my library.

04/15/2023 23:39

KayCee Kai Malanos

y6u9 wah.. i like the plot.. love the possesive ceo and a strong willed female lead.. looks like a good read

04/15/2023 19:47

Reader-731248

y6u9 I agree with the other comments. this is a very captivating introduction and calls for a strong woman in the main character. I'm intrigued.

04/15/2023 19:11

Jan T

y6u9 #y6u9 the introduction is intriguing and captivating. it will be interesting to see how things go between Heather and Xavier. I like the positive comments as wel

04/15/2023 15:04

Michibeba

#y6u9# this seems like a good, strong female lead these don't come by too often unfortunately

04/15/2023 14:04