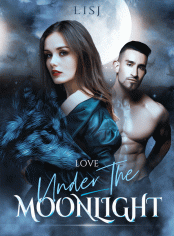 Love Under The Moonlight
IGG
269.8k Words / Completed
Start Reading
Add to Library
Introduction
Erin Wesley never knew
werewolves
existed until the night she almost crashed into one... whose hazel eyes remind her too much of her dead fiancé.
-
On the
death
anniversary of her fiancé, August McClaren, Erin travels to the place where she lost him. Hawthorne is a small mountain town in the middle of the Colorado mountain forests. In the town of Hawthorne, there is a tradition that cannot be
broken
. A ritual observance on the night of a full moon. That's why on full moons, they close down the town and do not permit any visitors within their land. And visitors who were there, have the responsibility to leave before the full moon appears.
-
As the sun rises after she almost crashed into the creature, Erin is hit with the harsh realization that her fiancé might still be alive and breathing, the problem was, he wasn't
human
anymore.
-
And the only thing he could remember about her is her name.
READ MORE
Comments
Jenna Mc Augustine

w6g8 of to a good start. I want to know if it's her fiance. will continue reading

04/12/2023 01:47

Rafael

#w6g8# I like the introduction and the comments that I read so far. because I like the supernatural stories I will start this book and see If it is fun to read.

04/11/2023 22:09

Janneke Viljoen

w6g8 the opening chapter is always a deal breaker for me if the first chapter is good I will continue and this books first chapter is mind blowing you just want to continue reading

04/11/2023 20:14

Marcia Sheard Whittaker

w6g8, I am very interested in the mystery of the town. I can't wait to read further into the book. Very interesting so far.

04/11/2023 17:54

Karooke

w6g8 wow the intro is really interesting...

04/11/2023 13:39

Lindsay Ameel

w6g8 great introduction. cannot wait tot red more

04/11/2023 12:44

Jan T

w6g8 #w6g8 that's a very good introduction! lots of mystery, great concept and addictive plot. I like how the comments are positive

04/11/2023 12:36

John Robinson

w6g8 The description is intriguing made me want to read more. The first chapter is quite emotional, looking forward to reading more.

04/11/2023 06:16

Jade Freeman

w6g8 - great blurb, drags in the reader. added to reading list for a read in the future

04/11/2023 06:11

Merle Langevoord

w6g8 just started reading the first few chapters. I'm really looking forward how the story continue

04/11/2023 05:48