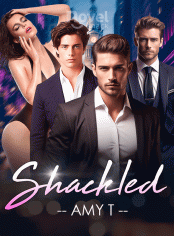 Shackled (The Lord Series)
Amy T
177.6k Words / Ongoing
Start Reading
Add to Library
Introduction
The world I live in is more dangerous than I realized, ruled by two
secret
organizations—the Dukes and the Lords, whom I've found myself entangled with—but not as dangerous as the treacherous man my father, a Duke of Veross
City
, insists I must marry. I ran away before he could sink his claws into me. I find myself
forced
to beg my former best friend—Alekos—for
help
. Alekos agrees, but he has a price. I must become not only his woman but also that of his two
friends
. What choice do I have? So I agree with his proposal.
I thought Alekos, Reyes, and Stefan would be my salvation, but they quickly show me they are like any other Lord—
cruel
, brutal, and heartless.
My father was right about one thing—the Lords destroy everything they touch. Can I survive these
demon
s? My freedom depends on it.
I must endure all that Alekos, Reyes, and Stefan put me through until I can escape this savage city.
Only then will I finally be free. Or will I?
READ MORE
Comments
Mama-Bear

hi just wondering when updates for this will be? thanks!

09/10/2023 09:10

Werewolf Queen

Can not seem ti put this book down.

07/01/2023 01:01

Werewolf Queen

He's a hot Dom that knows what ke want's 🥵🥵

06/30/2023 23:12

karen bishop

what asshats these men are. How freaking rude

06/25/2023 05:49

AMN

was hoping for an update

04/25/2023 08:03

AMN

will there be any updates soon

04/15/2023 17:30

AMN

updates soon please?

03/14/2023 22:39

AMN

Definitely wanting the four to stay together. I especially want Alekos and Angel to mend their relationship, they both deserve to be together. Please Please

02/07/2023 09:55

Jasmine Kay Hibbs

Waiting on more to be updated on this, very excited to see where the boys and angel go. I'm hoping her and Reves get closer!

01/29/2023 18:06

AMN

is there going to be updated soon I hope. love this story. miss reading new chapters

12/05/2022 03:44