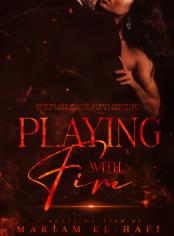 Playing With Fire
Mariam El-Hafi🔥
319.1k Words / Completed
Start Reading
Add to Library
Introduction
He pulled me in front of him, and I felt like I was like facing Satan himself. He leaned in c
loser
to me, his face was so close to mine that if I moved, we would bump heads. I gulped as I looked at him with my wide eyes, scared of what he might do.
"We'll have a little chat together soon, okay?" I couldn't talk, I just stared at him wide-eyed while my heart was beating like
crazy
. I can only
hope
it was not mine he was after.
Althaia meets the dangerous
mafia
boss
, Damiano, who gets drawn to her big
innocent
green eyes and can't seem to get her out of his mind. Althaia had been hidden away from the dangerous d
evil
. Yet
fate
brought him to her. This time, he will never allow her to leave again.
READ MORE
Comments
Lula Jones

before I keep reading do they get back together after the miscarriage? and if so how many chapters till I get there I don't wanna wait

08/23/2023 09:45

Olivia

so stupid what any stories is doing to Mariam like literally own up to your mistakes piece of poop trash

08/14/2023 23:41

Reader-356530

yassssss!! Do you Queen 😂😂

08/12/2023 08:34

Rhoma Jenkins

does anyone know if there is a 2nd book from the author?

08/03/2023 19:21

Reader-101059

seriously need a part 2. this has been the best book I've read in a long time!

08/03/2023 16:41

Nichole McCasland

#bingeread loving this book so far. impossible to put down. details are perfect and evoking all the emotions.

07/29/2023 17:57

Alessia Andrea Salvalajo

so so so intriguing! the handsome man, the secrets, the way she cope with all of it is funny yet perfect for this story! can't wait to read more #bingeread

07/26/2023 16:34

KMG2911

Your book was sooo good! Absolutely loved it. it had all the feels from having me laughing out loud to tears and everything in between. Well done!

07/25/2023 23:00

Brandie Haas

#bingeread I am enjoying this book and can't wait to read more. this book brings out so many emotions.

07/25/2023 22:27

Sharon Milton

KMG2911 I am really enjoying this book but I feel that the chapters are to short and always end to soon

07/25/2023 11:26