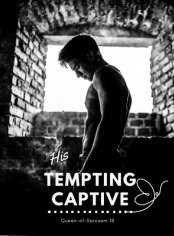 His Tempting Captive (Assassins Can Love Book 1)
Queen-of-Sarcasm-18
85.1k Words / Completed
Start Reading
Add to Library
Introduction
*"I have wanted to fuck you raw the moment I laid eyes on your naked body."*
"W-who a-are you?" She gasped her face one of complete innocence.
"I will be as
king
the
quest
ions." His voice echoed throughout the room.
She tried to push him off which resulted in him spinning her around effortlessly and pushing her face-first into the wall.
The towel that covered her body fell away from her and she gasped,
tears
forcing their way out. Thomas leaned into her body to restrict any movement. He wasn't proud of it but his body was reacting to her.
He leaned for
war
d and whispered into her ear. "What are you doing here?" He
quest
ioned.
"In my house?" "I-I w-was invited here..."
Avril Stock strives to have her parents not treat her as some dim-witted fool. She was eigh
teen
for heaven's sake. Most
kid
s at six
teen
were sent out in the world but not her. She had to be born to overly strict parents who even at her age ruled her
life
with iron fists and unbreakable opinions. Until she comes to this man's house, all principles will be
broken
...
Thomas Lynne is known in the mirrored world for his prowess as a professional spy wor
king
for a covert organization. ​He is the man they call when all else fails, so tactful and certain are his techniques. He is resourceful, detached, and most of all merciless.
Not be lured by any woman but only using them as an anecdote for his frequent urges, why does the out
war
dly
shy
Avril Stock affect him? Maybe it was her carefully concealed temper and sharp wit. He didn't want to mention her soulful honey-colored eyes that widened to il
lust
rate just how
innocent
she really was. Her coming under his roof could only spell trouble...
Book One of "Assassins Can
Love
Series"
READ MORE
Comments
Reader-998117

wow wow wowed wow wow wow wow!! it was the cover that really first got me wow wow wow wow wow wow wow!!!!

04/17/2023 04:20

Rosetta Canham

8p9o wow the intro is too hot... Hope the story lives up to it

04/11/2023 08:39

Hayley louise

8p9o I can't wait to finish this story. and there's even a book 2. What an introduction. I usually only read supernatural stories. But this one had me from the start.

03/30/2023 16:01

Christina

#8p9o# I'm already hooked and I'm just starting. Can't wait to see how Avril and Thomas relationship unfolds! Also what the connection with her parents, something shady there!

03/30/2023 14:56

Rafael

8p9o I love the introduction. it seems a very interesting story and with interesting characters. I am going to reading soon. is the first book that is not supernatural that I sm going to read.

03/30/2023 14:36

Michibeba

#8p9o# I love a strong female lead, specially when it is next to a dominante male lead and he meets his match, can't wait to see how this develops.

03/30/2023 14:33

Chika Brooke

8p9o you can never go wrong with Queen of Sarcasm's book. Just the first chapter captivates the readers and glued to this book..Thomas is so cold,merciless and controlling. I love the fact that Avril's character,though innocent developed into a smart young woman.Her strength grew through her struggles.

03/30/2023 14:21

Akenji Shelly

8p9o Well written story. I'm all about strong female leads and I wish there would be more stories with stronger women! Well done author.

03/30/2023 14:10

Stacey Stratton

8p9o I haven't read this yet, but just the intro sounds steamy! It is definitely getting added to my library!

03/30/2023 14:08

John Robinson

8p9o Fantastic story, love Avril's character she showed her strength at the end. I was heartbroken until I read the epilogue. Absolutely love this story I thought it was really well written.

03/30/2023 14:08