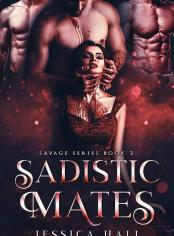 Sadistic Mates
Jessica Hall
121.5k Words / Completed
Start Reading
Add to Library
Introduction
My name was enough to send most people running, those that didn't were fools, for they would feel my wrath. I am the
king
of
dark
ness. The
dark
Tribrid, the one that changed the world. Countries have fallen by these hands.
It
was best to stay on my good side. My mother thought she was protecting me, keeping my
magic
from me. That
betrayal
hurt
the most.
She took a piece of me. I nearly killed her ta
king
it back. I stopped aging at 30, but the
dark
ness made me feel every bit of the 101 years I have had on this earth. Suc
king
every part of me away until I become what I am now, I used to fear the
dark
ness, now I embrace it.
I met Ryland first. He was just as
evil
as me and
werewolf
; we continued our reign of terror until we met our other
mate
. I
hope
d for a woman, not that I was uncomfortable with my
sexual
ity. Orion though was different, weaker. He didn't agree with my past. He was much older us. Orion is a
vampire
and a little old-
fashion
ed, but he was mine even though he annoyed me and frustrated me.
He
hate
d me at first, but came to see reason and remained by my side even when he doesn't agree, hoping to change me. Though now I think he has given up.
Then there was Evelyn, I thought I was complete until I met her. I wanted her, craved her and needed her more than I needed air to breathe. She was perfectly
human
and made perfectly for us. She is everything I never knew I needed and wanted. The moment I laid eyes on her, I knew she would be ours.
——————
Book 2 of
forbidden
Mate
's
Book contains Reverse harem
erotica
content, mentions of
abuse
that could trigger readers please and to read at own risk.
READ MORE
Comments
patricia de rooster

Shouldn't have taken such a important part of her story out even if it was distressing. People read if they want to, nobody is forcing nobody. (Chapter 20)

08/12/2023 15:08

Stephanie

Can the author add chapter 20 back? really makes the 2nd book off putting when a huge change in the characters occurs.

05/03/2023 23:38

kffost

s3f4 Just started this morning and I'm hooked. I loved the first book and the second is turning out just as good. I can't wait to finish it.

04/25/2023 10:48

Nene

Why was chapter 20 removed? It used to be there.

04/19/2023 23:53

Hayley louise

5d6s the story drew me in straight away. I've read this story before so this is my second time. There's a part where Thaddeus reads her mind and it sends him into a rage because of the horror from her memories.

03/30/2023 11:49

Reader-529162

#5d6s# Oh wow this story looks really intense… added to my library and Will check it out when my heart is ready for it~

03/30/2023 11:46

Jopas

5d6s Love the stroy from the very start, I like the characters a lot and the plot twist that kept me hooked. It's a very beautiful and well written story.

03/30/2023 11:44

Kitty-694016

5d6s. Jessica Hall is an amazing writer! I loved this story and can't wait to read the next two. I'm so glad she accepted them!

03/30/2023 11:24

John Robinson

5d6s Great start to this story, well written and draws you in. I like that it's finished and not excessively long, will definitely reading to find out what happens.

03/30/2023 11:17

Chika Brooke

5d6s This. book is a follow up of the sinful mates series.Jessica Hall did an exceptional job portraying the extreme dark world of Tribids and Hybrids. This story centers on Thaddeus and his multiple mates.He is a descendant of a combination of a werewolf,witch and vampire parents in a reverse harem relationship..I was so enthralled with the descriptive and powerful manipulation of dark powers at play in this awesome book.

03/30/2023 11:15