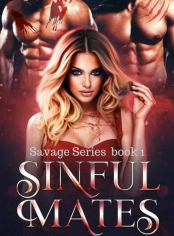 Sinful Mates
Jessica Hall
177.0k Words / Completed
Start Reading
Add to Library
Introduction
"What are you doing, Theo?" I whispered, trying to keep my voice low, so Tobias wouldn't overhear and come yell at me more today.
"Getting a re
action
" He whispered against my
lips
before he kissed me hard. His
lips
smashed into mine, cold yet demanding. I felt his tongue brush my bottom lip and my
lips
parted. Theo's tongue playing with mine, his hand reaching up and grabbing my breast through my dress. He squeezed hard enough that it burst the little fog bubble I was in. Then I realised I was kissing not only one of my
boss
es but my other
boss
es' partner.
I tried to shove him back, but his
lips
just moved to my jaw, my body reacting to his
lips
on my skin. I could feel the thick fog clouding my mind again, ta
king
over my body as I willingly gave in. Gripping my hips, Theo placed me on top of the bench, pushing himself between my legs, I could feel his erection pushing into me.
His
lips
moving down, kissing and suc
king
on the skin of my neck, my hands reached up into his hair. Theo's mouth hungrily devouring my skin, sending goosebumps everywhere his
lips
touch. The contrast of my now burning skin to his cold
lips
made me shiver. When he got to my collarbone, he pulled the top three buttons of my dress open, kissing the top of my breasts. My thoughts lost in the feel of teeth nipping at my
sensitive
skin.
When I felt him bite on my breast, I squirmed it stung, but I felt his tongue glide over his bite mark soothing the
pain
. When I looked over Theo's shoulder, I was pulled from my daze, when I noticed Tobias standing in the door, just calmly watching, leaning on the door frame with his arms folded across his chest, like this was the most normal thing to stumble across in the office.
Startled, I jump. Theo loo
king
up, seeing my eyes locked on Tobias, stood back releasing me from w
hate
ver spell he put me under.
"
Abo
ut time you came loo
king
for us" Theo winked at me, a smirk on his face.
Imogen is a
human
female, struggling with homeless. She starts wor
king
for a company as two
CEO
's
secret
ary. But she's una
war
e of their
secret
.
The two charming
boss
es are both
supernatural
s. They start meddling in her
life
when they found out she's their little
mate
.
But the rule is, no
human
can be a
mate
to
supernatural
s...
War
ning
This book contains
erotica
content and contains a lot of smut, course language. This is an
erotica
romance
,
reverse harem
werewolf
/
vampire
and contains light
BDSM
.
Book2: Fatal
Mate
's is available on AnyStories.
READ MORE
Comments
Carol Kryszkiewicz

so well written. I am enjoying the book just struggling to get the reward points to read it faster!!! Fantastic writing style.

08/10/2023 17:40

Brittny Honaker

#bingeread my interest was piqued immediately and continued... such an interesting dynamic between the main characters

07/30/2023 18:36

Charleena Cousar

#bingeread this book has been interesting from the very beginning and hasn't stopped. Imogen deserves a happy ending because life has thrown so much at her in such a short time.

07/30/2023 03:34

Gaëlle M.

quite entertained with that story so far. The characters are really interesting. can't wait for what's comming next! #bingeread

07/27/2023 15:48

Alessia Andrea Salvalajo

this book is so well written! the first couple of chapters are quite interesting, they really put you inside the story. can't wait to read more! #bingeread

07/26/2023 16:32

Glennice Johnson

#bingeread I absolutely love this book and this author. I'm so invested in all the characters! LOVE LOVE 💕

07/26/2023 14:41

Ainhoa Garcia Udaondo

#bingeread The first story of Jessica Hall that I read and I'm hooked.

07/25/2023 22:12

Ashley

#bingeread I have started reading this and can not stop. Another great story from Jessica Hall, I love all of her books. You can not help become invested in the story with the way it is written, you care for the characters and want to read more and see how it all turns out for them. I will definitely be reading this whole series.

07/25/2023 07:10

Sian Moore

obsessed isn't the word. the way you write is beautiful and well thought out. amazing can't wait to finish the rest ☺️

07/24/2023 08:02

Jenee

Here's to hoping that I've found a great story. I've been looking for something to read for a while and have struck out time and time again, but now this story has come across my shelf so here goes nothing. #bingeread

07/23/2023 22:26