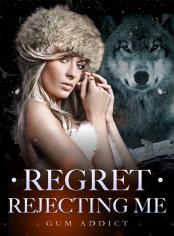 Regret Rejecting Me
_Gum_Addict_
111.7k Words / Completed
Start Reading
Add to Library
Introduction
"No." My voice came out strong and demanding. I feel the presence of my
pack
around me, giving me strength and support, ma
king
me
confident
.
I take a step for
war
d, grab a strand of my hair, and twirl it on my finger.
All eyes zone on me and my
pack
backs away.
My eyes connect with every pair of eyes until they land on the person who gave me the most
pain
.
"I'm alive."
Lily has dreamed of meeting her
mate
ever since she shifts.
But her
hope
s are shattered after he rejects her in front of the whole
school
. To make it worse, he happens to be the future
alpha
of her
pack
.
Without loo
king
back, Lily decides to reinvent herself.
But, what good can it do if she doesn't go back and show him what he missed?
**
War
ning : This book will include explicit language, insults,
sex
ism, violence and blood. Proceed at your own risk.
Please don't reproduce or copy my content, sorry but don't.
READ MORE
Comments
Debbie Brown

this sucked

09/25/2023 21:08

Sammy

3r4t Looking forward to completing this book. Hooked with the revenge theme. It starts off with a unique twist and I hope to stay intrigued throughout.

03/30/2023 19:57

Terrin Garis

#3r4t# I just started this book and really hope the girl doesn't get burned by the "mate". Hopefully she's going to get a new one who values her.

03/30/2023 19:56

Rafael

#3r4t# I like the introduction. it seems a interesting revenge book. is going to be fun reading it. let's hope is not disappointing.

03/30/2023 19:35

Stacey Stratton

3r4t I'm always down for a good revenge story! I can't wait to dig into this one

03/30/2023 19:35

Gemma Butler

3r4t I love a good revenge book. I really hope she makes him beg for forgiveness

03/30/2023 19:33

Michibeba

#3r4t# this book has been added just the premise that she comes back to rub in his face what he missed has me salivating already, this is my favorite type of book!

03/30/2023 19:29

Phyllis Neel

3r4t I began reading this story a while back. I loved it. Revenge is outstanding. This story is intense with twists and turns. Happy to continue on this journey

03/30/2023 19:28

Emily

3r4t revenge books are always great and I really hope it's not her going back on her word and take him back etc

03/30/2023 19:28

Jan T

3r4t #3r4t ooooooooo I love reading Revenge books. I'm adding this to my reading list. the comments are good too! I can't wait to get started

03/30/2023 19:13