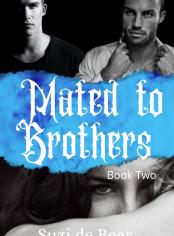 Mated to Brothers
Suzi de beer
146.4k Words / Completed
Start Reading
Add to Library
Introduction
Lara never expected to find the man of her dreams, never mind two. When
Billionaire
Silas started showing interest in her, Lara wanted to run the other way. With encouragements from her
friends
she decided to throw caution to the wind.
Things between them got serious fast. They were on the verge of getting married when Silas's father suddenly showed up and demanded that he return home.
Lara suddenly found herself thrown into a whole new world where creature she never knew of, existed. Turns out Silas had a twin brother and he wanted her too.
But things were getting complicated. She had two men who wanted her and someone who was out to get her.
Will the brothers be able to put their differences aside to keep their
mate
save and happy?
READ MORE
Comments
Ray Johan

A note for anyone looking to start this book: it is not actually finished. There's a random epilogue chapter close to the end, but the book does not actually have an ending. It actually stops on a part of the story that leaves a bit of a cliff-hanger.

07/02/2023 22:48

Emily

g9f3 interesting plot. I'm on the fence of reading it tho because I saw a lot of spoilers in the comments already.. maybe..

04/04/2023 18:05

Reader-731248

g9f3 from the first chapters I'm hooked. Seems like an interesting story, and I like there are more in the series.

04/04/2023 12:35

Vicki usher

g9f3# I am liking the sound of this book, looks like there is going to be lots happening and maybe some twists and turns..

04/04/2023 09:27

Nicolette Simms-Gooden

read up to chapter 13 but then I read the comments and took is out my library..

04/26/2022 18:47

Nichole Gray

I wanted to like this book the writing was very good but it broke my heart.

02/22/2022 02:43

Vickie Lynn Puckett

The baby should not be Ethan's. it just is not fair. Avery should not win anything.

02/16/2022 12:21

LlamaAmbs

I'm sad. I am not expecting the ending :(( I want to cry.

02/15/2022 16:55

Denise Corey

should these books be read in a specific order???

11/02/2021 13:35

Debi Myers

color of the wolves coat?

09/12/2021 11:04